The vertical coffee machine that is a historical benchmark
Venus Bar
A special espresso coffee machine
Venus is the Goddess of the Roman Patheon. It is an exemplary name that evokes beauty, forms, elegance, and grace. This coffee machine is still today able to conserve the splendor of the Goddess, with its soft and gracious forms, it signifies sublime fascination. The Venua Bar is a powerful and elegant machine that serves a great cup of coffee.
Passionate heart, green soul
Venus Bar is part of Ongreening, a web portal dedicated to environmental sustainability that spreads the best green building practices all over the world, encouraging the sharing of knowledge.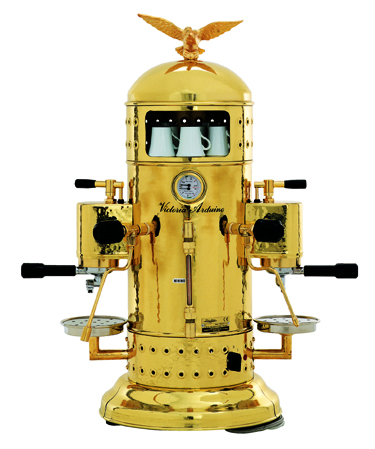 A 'HAND MADE' ESPRESSO COFFEE MACHINE
The machine has a bodywork made by hand and three colors that bestow glow and brilliance: copper, brass, and chrome. Expert artisans make each body of a Victoria Arduino espresso coffee machine with extreme precision and give particular attention to detail. The vertical layout is a plus as it fits in any environment easily.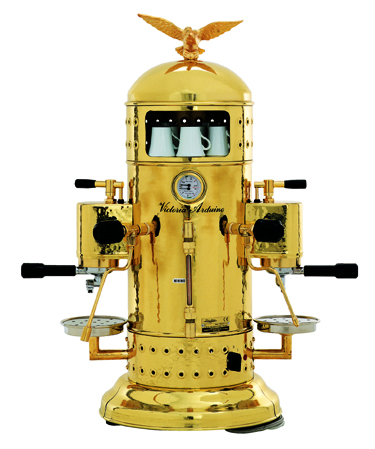 THE SIMPLICITY AND THE ACCURACY OF A CENTURY OLD ESPRESSO COFFEE MACHINE
The vertical boiler of the Venus Bar creates dry and hot steam that guarantees a creamy cappuccino. It is possible to have a two or three group machine for the single needs of the user. The Venus Bar has a double security system made of a valve and a thermostat, while the hydraulic system renders perfect thermal stability. In the semiautomatic version – like the traditional machine – the user needs to operate the dispensing lever, while the volumetric version has a button. The hot water and the steam are in function when the tap is opened. All the machine's features are easy and intuitive to use, allowing it to be an extremely reliable tool.