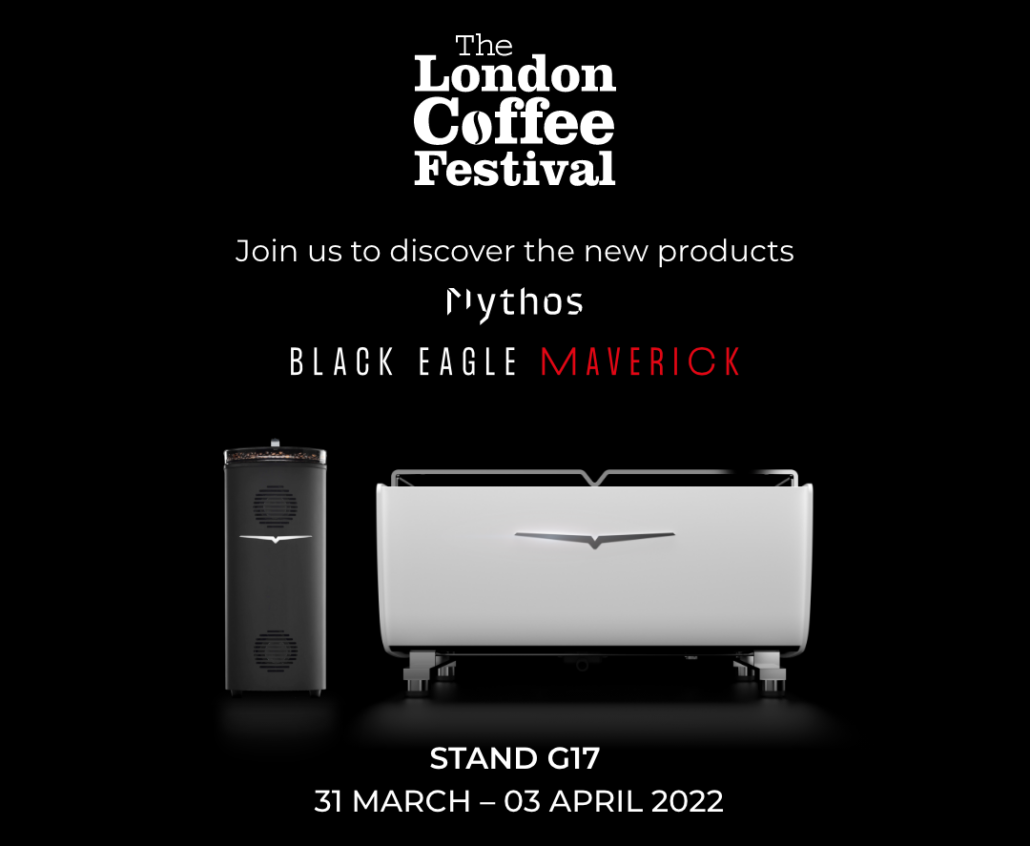 London Coffee Festival (March 31st – April 3rd) – Booth G17, these are the coordinates to discover the Black Eagle Maverick, our intelligent, sustainable, user-friendly machine.
A must-see novelty of this year's London Coffee Festival is our Pure Brew equipped on our Black Eagle Maverick. This novel drink combines our Pure Brew Technology, an innovative extraction method applied on espresso and low-pressure extraction, and our patented Victoria Arduino specially designed, conical basket with a double micro-thin filter. The Pure Brew coffee kicks off with an intense aroma that catches the essence of the coffee, while the cup profile highlights the distinct flavor notes and a full body (find out more on our YouTube channel: PURE BREW VIDEOS)
With Black Eagle Maverick, Victoria Arduino wanted to provide the barista a machine with total domination over the temperature, the brew, the steam and allow them to shift instantly between different types of coffee.
The new Mythos coffee grinder will also be present at booth G17, where the client can discover its enhanced characteristics, making it one of the best products in terms of user experience, grinding control, and design. Today Mythos is defined by a world of details but with its unique design and the same passion and strong value, it shares its grinding perfection with baristas, roasters, and coffee chains worldwide.
The Eagle One will also come back to London, the metropolitan city that inspired the coffee machine's creation—designed to respond to the needs of the new generation coffee shops, the fabulous machine has the three winning aspects needed to provide a memorable coffee experience: design, high performance, and sustainability. Eagle One is the machine for baristas that demand compact equipment, easy to use but at the same time able to make a superb high-quality cup of coffee, maintaining energy consumption at a low. Gail's, a bakery chain, chose Eagle One for its shops in London. They bake bread, sweets, and fresh cakes daily and serve a great specialty coffee brewed by the Eagle One. It is an excellent coffee stopover in London's city center. On Saturday and Sunday, Gail's will be at the Victoria Arduino stand to offer passing clients their specialty coffee extracted with the magnificent Eagle One coffee machine.
https://victoriaarduino.com/wp-content/uploads/va_londocoffeefestival_newsletter2.png
887
1080
Sara Giacomelli
https://victoriaarduino.com/wp-content/uploads/2020/03/Logo.png
Sara Giacomelli
2022-03-24 17:15:59
2022-03-24 17:15:59
Discover the Pure Brew at the London Coffee Festival