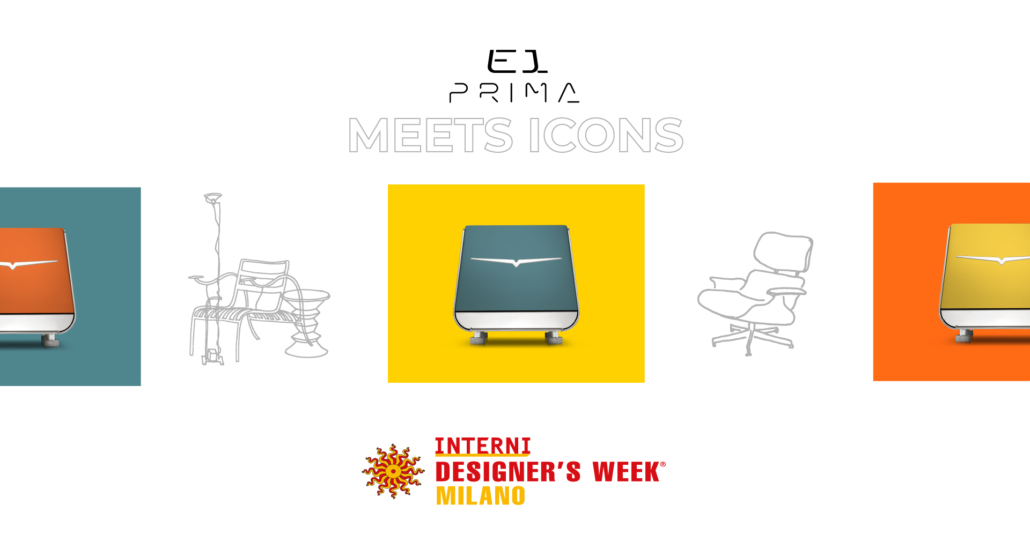 Living the coffee experience wherever and whenever you want, and in an immersive way to involve all the senses. The opportunity is just around the corner: on April 12-23 E1 Prima goes back to Milan for a new edition of Interni Designer's Week through a real celebration of the icons of Italian and international design. The installation, titled PRIMA MEETS ICONS, intends to pay homage to and mention some of the most important design icons through a special edition of E1 Prima designed by the architect Alfonso Arosio.
Victoria Arduino's connection with the world of design is getting stronger and stronger. The special edition of E1 Prima, in fact, is an exaltation of the lines of design icons: the eagle placed on the back of the coffee machine highlights the lines of the most famous design objects such as the chaise longue or armchairs or lamp.  In the minimal texture, the icons are represented in a three-dimensional way and hand-drawn by the architect Arosio.
To accompany the installation Prima Meets Icons, there are also three special E1 Prima designed by Giulio Cappellini with textures and colors that represent the trends of the moment. Many different images for a single idea of ​​glamour.
The design with essential, contemporary, and refined lines of E1 Prima, in fact, brings to an immersive experience that involves all senses from taste to sight, thanks also to the special edition created for the Designer's Week in Milan.
The installation "Prima meets Icons" will be present at Cafezal Specialty Coffee from 12 to 23 April 2021 and is part of the 2021 Interni Designer's Week edition, which aims to support the restart and rekindle the creative spirit of Milan.
https://victoriaarduino.com/wp-content/uploads/interni-article.jpg
1024
1920
Sara Giacomelli
https://victoriaarduino.com/wp-content/uploads/2020/03/Logo.png
Sara Giacomelli
2021-04-09 09:32:10
2021-04-22 07:53:38
E1 Prima and the icons of design at Interni Designer's Week